Video Rotator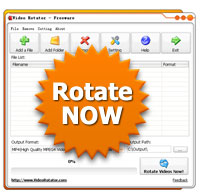 90/180/270 Degree Rotation



Horizontal & Vertical Mirror



iPhone Video Supported



15+ Formats Supported



Rotate Videos in Bulk



100% Adware Clean




OS:
XP / Vista / Win 7 / Win 8 / Win 10 / Win 11 or Later -
Size:
24 MB





Follow Us on Twitter
How to Rotate Videos
Rotate Video Clips Easily
Video Rotator is a Windows application for rotating video clips 90 degree clockwise, anticlockwise, horizontal mirror or upside-down. The program supports more than 15 popular video input formats includes AVI, MPG, FLV, MP4, WMV, MOV and 3GP etc. Video Rotator allows users to save the rotated videos to 5 popular video formats: MP4, AVI, MPG, FLV and MOV. The program supports batch mode so that users are able to rotate & flip videos in bulk.
Video Rotator: Convenience at Your Own hands
With the advent of technology, capturing moments has been made easier day-by-day. The high-end cameras that were once a luxury are now present on smart phones. Video editing software applications are accessible for everyone to use, so that the life experiences can be presented in the most creative ways.

Despite these advances, an everyday hassle still pesters us from time to time. This is the problem of video rotation. Since videos are taken from various devices set on different default orientations, there is no standard presentation when another user wants to view. Thus, the inconvenience of having to look for software to edit the video disrupts the supposedly nostalgic and enjoyable experience. In the market for these programs, it is even a drag to look for a reliable, affordable, and user-friendly solution.

Worry no more! A latest innovation is here to help you with your video rotating struggles. Video Rotator, the most promising software in the market, is guaranteed to be a best buy because of its features:

Video Rotator supports Iphone formats. Iphone products tend to have very meticulous operating systems, given that it prides itself as valuing security and exclusivity. Its video format, which is MOV, is supported by Video Rotator! Apple users need not to worry anymore.

Video Rotator offers various options for degree rotation. The problem of video rotation is not only about the orientation. It's not only about whether the video can be flipped horizontally or vertically. Some users desire for videos to be adjusted into 90/180/270 rotations. Video Rotator offers this unique feature to expand a user's options when it comes to video editing.

Video Rotator converts videos in bulk, simultaneously! Avid travellers and seasoned videographers can attest to the hassle of rotating videos one at a time. These people do not have a luxury of time, so they need a helping hand. Video Rotator is a perfect assistant, since it has a batch mode, which allows videos to be rotated in bulk. This drastically saves time and increases productivity!

Video Rotator supports more than 15 video formats and also allows conversion. FLV? AVI? MPG? MOV? MP4? You name it, and it can be rotated! This software was created to cater to as many users as possible so endless memories can be captured with ease. Video Rotator also allows conversion from one format to another, so that looking for another program to do the task is no longer a problem.

Video Rotator is absolutely free from adware! Advertisements that pop up while doing tasks are definitely annoying. Apart from these, they may come with viruses that can destroy data. Videos are invaluable possessions, as moments cannot be retaken. Video Rotator ensures that all files are secure and that the video rotating task is free from any distractions.

Based on these features, Video Rotator has become the most sought-after product in the market today! With this handy video software tool, you get to enjoy the above-mentioned benefits. So, what are you waiting for? Visit the Video Rotator Download Page and be a witness to the innovation that is Video Rotator!
Can You Rotate MP4 Video Files to 90 Degrees?
How to Rotate Multiple MP4 Videos in Bulk on Windows
How to Rotate and Flip Videos on a PC
How To Merge WMV Files on Windows [Resolved]
How to Rotate a Video in Windows 11 and Windows 10
How to Combine Videos On Windows 10 and Windows 11


OS:
XP / Vista / Win 7 / Win 8 / Win 10 / Win 11 or Later -
Size:
25 MB





Follow Us on Twitter