Rotate Videos Shot On Your Phone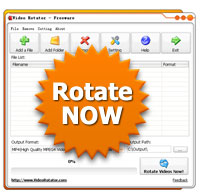 Video Rotator enables you to rotate and optionally convert your video files. The program supports 15 popular video formats, including iPhone, and offers 90 degree rotation (clockwise or counterclockwise), horizontal mirror and upside-down flip.

Simply drag'n drop your video(s) onto the application and you're ready to go. Video Rotator can rotate one or multiple videos at a time and save the output in MP4, MPG, AVI, MOV or FLV format.

Works great for rotating videos that were taken with your iPhone or Android while the phone was held in portrait orientation instead of landscape. (Reviewed by Snapfiles)

Video Rotator - Rotate and Convert your Videos
When you record a video clip with a mobile phone, it might be more comfortable if you hold the phone in a horizontal position. The phone may
rotate
the recording automatically when you view it, but this may not happen when you play the video on your PC. Instead of flipping your monitor, or changing its orientation settings, you can use
Video Rotator
. Its name should make it obvious that you can use the application to
rotate your videos
.
The software will not slow you down with nag screens or surprise you with hidden restrictions. It works on all modern Windows platforms, from Windows XP to Windows 8 and you can install it in less than a minute. There are no special requirements to meet, so you can run the program right away.
You will not spend too much time with Video Rotator's interface. It includes only a few simple options, with colored icons and clear labels. You may rotate a single video file or process multiple videos in a single run. The videos you target will appear in a list, in the larger area of the interface. A rotation method can be selected from a drop menu, beneath the files list, where you may select an output folder as well.
You can rotate your videos 90 degrees clockwise or counterclockwise, flip it upside-down or mirror it horizontally. Besides rotating videos, the software can also convert them to MP4, MPEG, AVI, MOV or FLV. Among the rotation options, you can find one to leave the video as it was. This means that you can also use Video Rotator just as a converter. The software works fast, so it will not take long to convert and rotate your videos.
Pros:
Video Rotator is very straightforward. All you have to do is load your files, select a few options and click a button. The software can rotate and flip videos and it is capable of converting them as well.
Cons:
Some users may not be satisfied with the small number of output formats.
With Video Rotator, you can rotate your videos and convert them to other formats as fast as possible, with minimum effort. (Reviewed by
FindMySoft
)